This is Part 1 of a three-part series on Construction Management.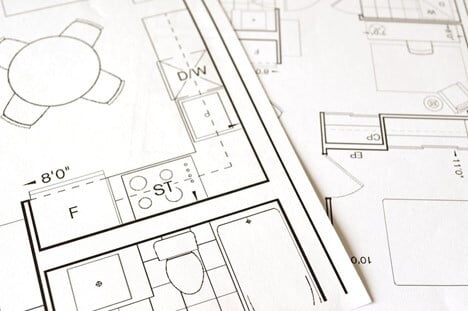 Recently, you've been tasked with managing Contract Administration for a construction project. As a result of reading blogs about modernizing organizations with technology, you wonder if there is a better way to track and communicate Contract Administration documentation than the age-old Word, Excel, and e-mail. If only there is a software tailored to this specific process in the construction industry! A quick search gives you a list of Construction Management, or sometimes known as Construction Project Management software, but is that the same as Contract Administration software? Read more to find out!
In Part 1 of this three-part series, we focus on Construction Management. Later in Part 2 of the series, we will discuss Contract Administration, one specific process within Construction Management. Finally, in Part 3, we will explain how Onware's Collaborative Contract Administration software can help you decrease turn-around time, manage more construction projects at once, and provide transparency with real-time tracking of active items.
Who is this guide for?
Architects
Contract Administrators
Owners
Prime consultants
Consultants
Subconsultants
Project managers
Contractors
Construction Managers
People new to Contract Administration
People interested in software and technology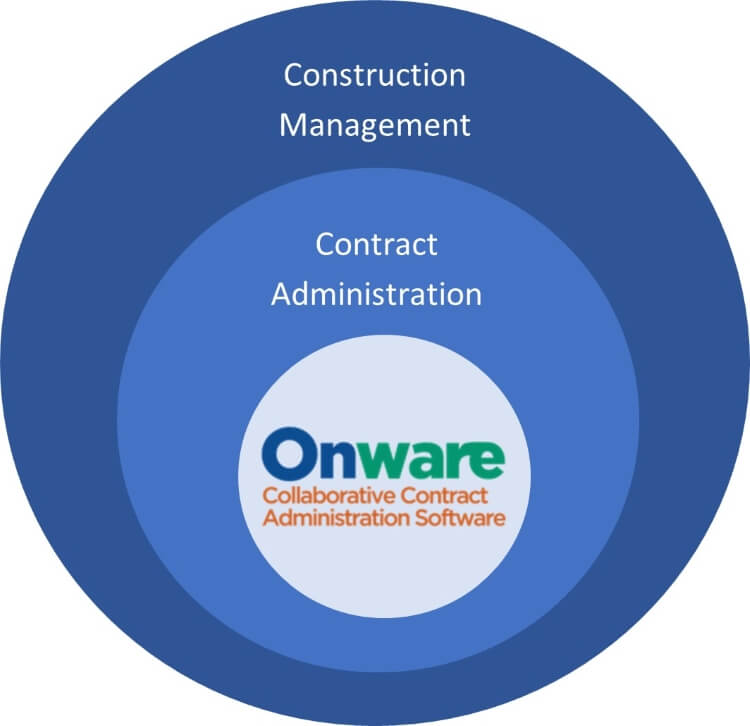 Before we can understand the benefits of Onware as a Contract Administration software tool, we must first zoom out. Then we canunderstand the broader concepts of Contract Administration and Construction Management.
What is Construction Management?
Construction Management relates to the entirety of construction projects' lifecycle: from conception to completion. Therefore, Construction Management can involve any process or technology related to any phases of a construction project, such as, but not limited to, planning, design, construction, and operations/close out.
How can Construction Management software aid construction projects?
Software designed for Construction Management aids with various business processes required for a construction project's success.
According to Capterra, these business processes may include, for example:
Collaborating workflow and data access across multiple teams
Storing project documents
Providing project visibility and communication to all stakeholders
Tracking milestones as outlined in contractual documents
Which Stakeholders are involved in Construction Management?
The Canadian Construction Association identifies the following key stakeholders of construction projects: owners, designers, approving authorities (e.g., the government, compliance consultants, etc.), general contractors, subcontractors, and suppliers. Moreover, to ensure all stakeholders are fairly represented in Canadian construction projects, the Canadian Construction Documents Committee (CCDC) was formed.
Why is the Canadian Construction Documents Committee (CCDC) beneficial to project stakeholders?
Formed in 1974, the CCDC provides standardized construction documents, such as template contracts, forms, and guides on construction industry standards and best practices in Canada. Since the CCDC consists of multiple stakeholder groups across the construction industry, according to CCDC, using their standardized construction documents has many benefits:
Builds trust
Simplifies bidding and contracting
Fairly allocates risk
Stakeholders feel confident
Stakeholders feel represented
Not all Construction Management software supports processes specific to Canadian construction guidelines and Contract Administration. In addition, they may not incorporate CCDC principles. Therefore, when choosing a software specializing in managing construction Contract Administration documents and processes, it is important the software considers CCDC guidelines. By embodying CCDC practices and principles, Contract Administration software becomes a collaborative tool that delivers accountability, industry standards, and heeds best practices for construction project stakeholders.
Takeaway: Construction Management software is not the same as Contract Administration software.

Construction Management refers to managing a construction project over the project's lifecycle, and as a result, involves many different stakeholders and business processes. Furthermore, software for Construction Management contributes general functions to coordinate business processes throughout the construction project.
This does not mean, however, that all Construction Management software providers deliver solutions for the specific process of Contract Administration. Rather, there are specialized software products tailored specifically for Contract Administration.
In Part 2 of this series, we will take a deeper dive into Contract Administration. In the final part of this series, we will explore how construction Contract Administration software, such as Onware, is specialized to manage these activities. Stay tuned! In the meantime, follow our social media (LinkedIn, Twitter, Facebook) for updates!
Interested in how Onware can improve your organization's Contract Administration? Connect with us.
Call and speak to one of our Contract Administration software experts, and we will answer any questions you may have about our construction Contract Administration software.
With over 15 years of experience in developing software for the construction industry, Onware provides powerful reporting to create, manage, and distribute construction project documents.
Specifically designed for AECO (Architectural, Engineering, Construction, and Operations) stakeholders, Onware's cloud based, collaborative Contract Administration software ensures your project's Contract Administration runs smoothly for any construction project. Read our webpage for more information.
Enjoy this post?
Visit our website for additional content including case studies and news and events on projects that use Onware's Collaborative Contract Administration software. Follow our social media (LinkedIn, Twitter, Facebook) for updates about software and technology in construction.