Onware makes it easier than ever to
create

,

manage

and

distribute

construction project documents while providing

powerful reporting tools

.

Onware is a cloud based collaborative contract administration technology platform providing transparency and up-to-date real time access to project documentation specifically designed for AECO (Architectural, Engineering, Construction and Operations) stakeholders. Streamline document creation, review and approvals with automatic tracking, task lists notifications and project document distribution and reporting analytics. Our ecosystem includes integrations, built-in and stand alone, to provide efficiency and seamless work between systems such as Tableau, Power BI, Bluebeam, Procore and PlanGrid.

Onware has been proven to decrease turn around time, increase efficiency and transparency on projects large and small across Canada.
Onware's Features
Our construction contract administration software's strength is our detailed logs and comprehensive workflows. Read below for our features and how we compare to other construction contract administration software.
Easy to Use
User centric design and years of refinement make complex tasks simple and painless.
Create and issue documents in just a few clicks

Creating and issuing documents in Onware is a snap. You can submit a Request for Information in as few as 5 clicks. Entering a response to an RFI can be done in only 2 clicks!
Emails delivered to the right people

Onware automatically distributes your issued document to the correct people. Users can specify which e-mails they wish to receive—such as a notification whenever a Supplemental Instruction is issued. No more remembering who wants to receive which documents; reducing e-mail clutter and overload.
Go direct to PDF without and plug-ins

Need a PDF of the document? Onware has you covered with built-in direct to PDF support for documents as well as reports. When receiving e-mail notifications, Onware will deliver you a PDF of the document and even combine it with other PDF attachments to help keep everything organized.
Automatically notify others when input is needed

Whether you have signed up to receive e-mail notification or not, Onware lets you know which documents need your attention. Your main menu displays a list of 'alerts' or action items of documents that are awaiting your input and is automatically dismissed once your input is provided. You can even choose to receive a daily digest of all your action items by e-mail.
Collaborate Anywhere
Our cloud-based solution makes collaboration easier than ever before.
Just an internet connection is required

Onware is not only mobile friendly but also engineered to avoid things that slow web applications down, so if you are on site with only 3G you can still use Onware efficiently.
Works with all browsers

We are constantly testing with different platforms and version to make sure. Whether your favourite is Safari or Chrome, or you are stuck on Internet Explorer 11, Onware will work equally well.
Collaborate using a secure central database

All Onware users work off the same secure central database, with no syncing required. Our cloud offerings leverage state-of-the-art Windows Azure SQL Database, with redundant systems, and regular backups. At the end of the project, final documents along with all attachments can be exported for archiving.
Save Time
Distraction-free design means you get more done in less time.
Data flows from one document to the next

Hate having to re-type the same thing over and over? We do too! Onware makes it easy to copy text from one document to another. For example, we automatically bring the text from a Contemplated Change in to a Change Order, you won't have to enter the title or description over again.
Eliminate duplicate data entry and manual calculations

When a contractor prices a Change, they enter the dollar amount which Onware automatically carries forward into the Change Order and onto the Progress Claims – all without having to re-enter it! This helps to eliminate errors that could result in having to amend and re-issue dozens of documents. Plus, automatically calculating the amounts of the Change Orders means you can retire your existing spreadsheets.
Store signed documents with all attachments

It's a drag printing out piles of documents and signing them all by hand, plus it's a waste of paper. Onware helps by allowing you to upload your signature and then automatically inserting it in the documents that you issue. If someone is still signing the traditional way, we have you covered by allowing you to upload the signed versions at all approval steps.
Locate data quickly with searching and document linking

Remember that RFI about "acoustic tiles" from 3 months ago? Track it down easily with keyword search. There was a cost impact on that one, wasn't there? You will know right away with a link between the RFI and a Contemplated Change. Onware not only makes it a trivial exercise find project documents, it lets you cross reference both in the documents themselves as well as on reports.
Real-Time Analytics
Look at your data differently with our real-time analytics and visualization tools.
Dozens of flexible, detailed reports are available

Each document in Onware provides at least two reports: a summary version formatted for printing and a CSV file that can be opened in Excel or your favourite spreadsheet. Using a set of convenient, well-thought out filters, you can control which data will show up on these reports. Need to know which outstanding RFIs are waiting a response from your electrical consultant? It's only 6 clicks away.
Project summaries report on the status of open items

Run a Project Summary report on each of your jobs to see all outstanding items, including RFIs, Changes, and Shop Drawings, showing their status as well as who it is waiting for. Click on any item for more detail.
Track the aging of active items

Maintain standards on turn-around time using Onware's Active Items report. It shows summary information on Requests for Information, Changes, Progress Claims and Shop Drawings with their age in days. Managers can schedule this report to be delivered to them by e-mail on a recurring basis.
Compare jobs with cross-project metrics and comparisons

Onware has numerous reports for performance metrics to compare projects. From tracking response times and summarizing by Studio or Business Unit, to a summary of Changes by code on your projects and comparisons across other projects.
How Onware Simplifies, Brings Efficiency and Process to Your Contract Administration in Construction Projects
Project Administration and Design
Project Communication
Action Items
Real-time list of items requiring input
Color coded to visually identify new and overdue items
Automatically dismissed once input is completed
Clarification Request
Obtain clarification or pose a question to any project group or individual participant
Create private Clarification Requests with role-based access
Email Notifications
Users can specify which types of e-mails they want to receive
E-mails are automatically distributed to the correct people Automatically combines documents, attaching the single PDF, to the e-mail
Meetings
Organize and record all meeting details
Track and assign action items to project participants
Distribute meeting minutes via e-mail
Create private meetings with role-based access
Dashboard & Reporting
Use the Project Summary to visualize project document progression, including document aging, in real-time
Flexible, detailed document specific reports with convenient filters to control which data displays on the reports
Document specific reports: A summary version formatted for printing; many exportable versions, including a CSV file that can be opened in spreadsheet software
Documentation Tracking
Upload documents or reports for acknowledgement of receipt
Create private Documentation documents with role-based access
Send to any project group or individual participant
Transmittal
Organize and record communication sent on project
E-mail project documents, at any time, to anyone, directly from within Onware
Project Administration
File Storage & Sharing
Own and archive all project data
Role-based access to folders and files
Unlimited Storage
Accessible by all project participants 24/7
PDF Markup, Tagging and Stamping
Stamp Submittal PDF drawings directly in Onware using our built-in stamping tool
Tag PDF attachments with live links to Onware document(s)
Use our Bluebeam integration to create Studio sessions, notify reviewers to join the session, mark up the drawings, and retrieve the final document – without leaving Onware
Project Directories
Create, store and manage an unlimited number of users, companies and projects
Assign user permissions
Invite users to collaborate on your project(s)
150+ settings for unique project configuration
Time Sheets & Expenses
Electronic timesheet and expense submission, approvals, tracking and reporting by billable or non-billable line items
Flexible approval hierarchy
Per user accrual tracking for sick, vacation, time in lie and/or overtime
Project invoice billing reporting
Contract Bid & Award
Request for Alternatives
Propose an alternate during the bidding process
Letter of Authorization
Official letter to bidders acknowledging successful or unsuccessful bid submission
Addendum
Notification to bidders of modification to the previous bid documentation
Site Communications
Supplemental Instruction
Easily request, track and report Consultant input on instructions
Record acknowledgement of instruction received by Contractor
Approval process flexibility
Request for Information
System automatically identifies and notifies users of the discipline(s) selected by the Contractor their response is required
Contract Administrator reviews all responses prior to answer returned to Contractor
Follow-up questions managed as a revision of original question
Request for Substitution
Easily request, track and report Consultant input on substitution requests
Substitution resubmissions managed as a revision to the original submission
When accepted, system automatically transfers information from substitution to scope change document
Quality Control and Payment Process
Site Visit
Retrieve real-time weather data directly within Onware for the project's location and date of review
Document and manage deficiencies and/or safety issues with observations
Upload supporting images or drawings to observations
Create inspection checklists that can be used across all or specific projects
Submittal
Stay on top of submittals with detailed searching and reporting
Save time by stamping documents directly inside of Onware
Start and end Bluebeam sessions for drawing markups, including invite reviewers directly from within Onware
Contractor submissions can be distributed to Consultants for review as part of the review process
Progress Claim
Contractors easily submit their monthly invoices and backup documents for review and payment certificate issued
Quickly Track and manage Claim review deadlines to ensure timely response or payment
Easily request, track and report Consultant input
System chronologically maintains records and automatically calculates payment amounts, including current and previous of retained, released and paid amounts
Scope Changes
Consultant Recommendation
Consultant(s) propose an identified scope change
Custom numbering scheme to swiftly filter and sort by originating Discipline
Quickly transition Consultant Recommendation into a scope change document
Consultant Recommendation
Approval of scope change prior to pricing requested
Flexibility to implement a dollar value threshold
Role-based access ensures targeted visibility
Consultant Recommendation
Quotation
Submit estimated price of requested scope change in as little as 2 clicks
Easily request, track and report on Consultant(s) input on submitted pricing
Time Impact and Quoted value automatically populate into the Change and subsequent Change Order
Consultant Recommendation
Change, also known as a Contemplated Change Notice or Proposed Change Notice
Categorize Changes by Code and/or Discipline for easy filtering and reporting
Seamlessly pre-populate change details, such as Title, Contract and dollar value into the Change Order
Track and report on multiple timelines, such as number of days to receive pricing and number of days to issuance of Change Order
Approval process flexibility
Change Order
Pre-populated with details from the Change, such as title, contract, and dollar amount
Original and revised Contract Value, previous and current CO value automatically calculated chronologically by the system
Compile all documents related to scope change, including supporting documents, into one PDF "package"
Customized Experience
For your organization:
Onware offers a customized user experience with corporate branding. Include your companies logos, colours, a custom forms for projects and letterheads.
For you, individually:
Onware allows you to receive email notifications for functions that you define. You can add "favourites" (quick one click access to different document logs), e-sign documents upon completion of your review, and more.
Integrations
Onware Sync
Onware Sync is a cloud-based platform that will integrate different construction management software applications such as Onware and Procore. It acts as a messenger and gathers information from one system's database then inputs it to the next.
Most construction projects involve large volumes of information that is manually inputted into a construction software system. Often, these pieces of information need to be typed into more than one system. All this manual inputting translates into hours wasted each week and opens up to human error. However, for contract administrators, prime consultants, and architects alike, they rely on having up-to-date, accurate information to better understand the situation and make informed choices. Onware Sync will seamlessly connect your applications to save time and effort and save money.
How Onware Sync Works
This product synchronizes your data from one application to another via a cloud-based system. Onware Sync is set to run automatically in the background to collect and process information from one system and inputs it to the next system of choice.
For example, if you have a Request for Information from Onware that needs to be processed into Procore's construction management system, your information can be communicated, hands-free without any effort, using Onware Sync. Once Onware Sync is onboard, your workflows will be connected to one another. The system will regularly pull data to keep everything in sync for you. Use Onware Sync to communicate between systems. By integrating your systems, you can improve productivity and focus on more important aspects of your project.
Onware Mobile
Work Offline: Have the ability to view documents offline. No matter if you are in the office, on-site, or on-the-go, the app allows you to view your downloaded documents at any time.
Get Notified: With the Onware Mobile app, you will receive push notifications on your mobile devices of any action items requiring attention. You can also view your action item on the app's homepage much like using Onware online.
Save Time: The first time you log in, your credentials will be saved. The app keeps you logged in and saves you the hassle of signing in all the time.
Site Visits: Site Visits are issued as a review of the progress of work and to document any deficiencies. A Site Visit can be issued by a Contract Administrator, Consultant, or General Contractor Project Manager. When you are on site, you are able to take the document, add any comments, and send it to the next user in the workflow.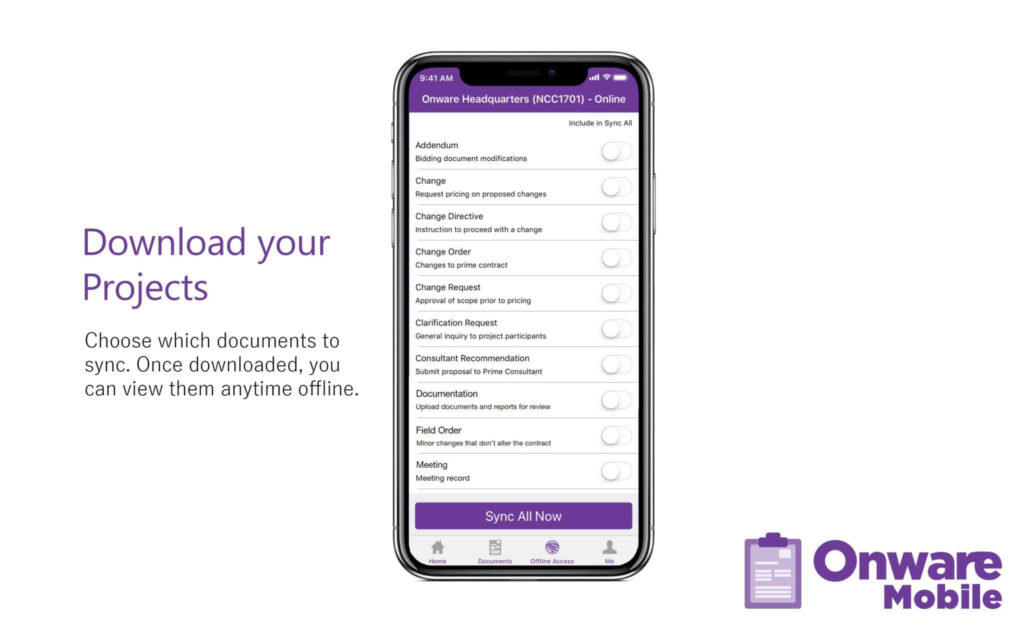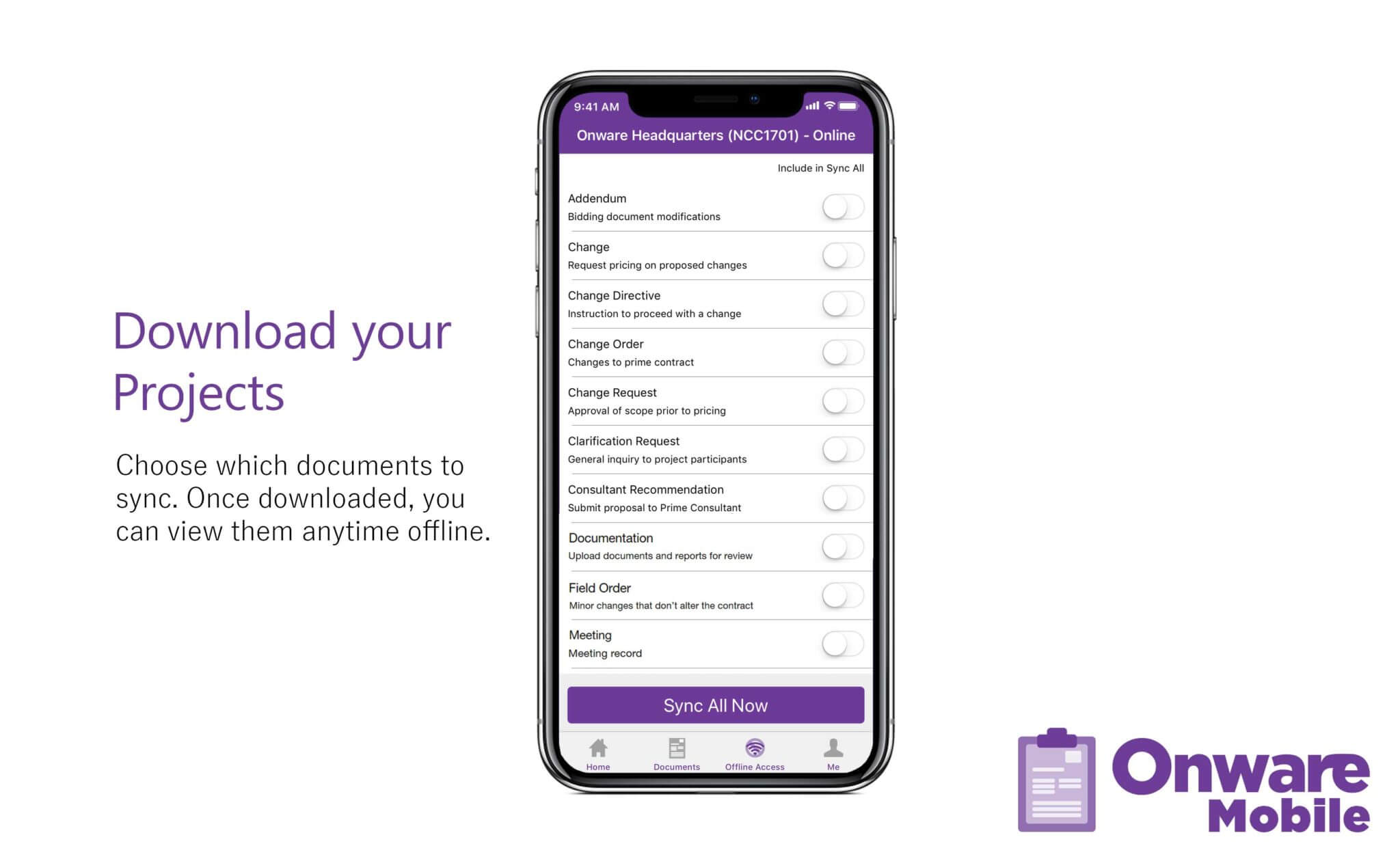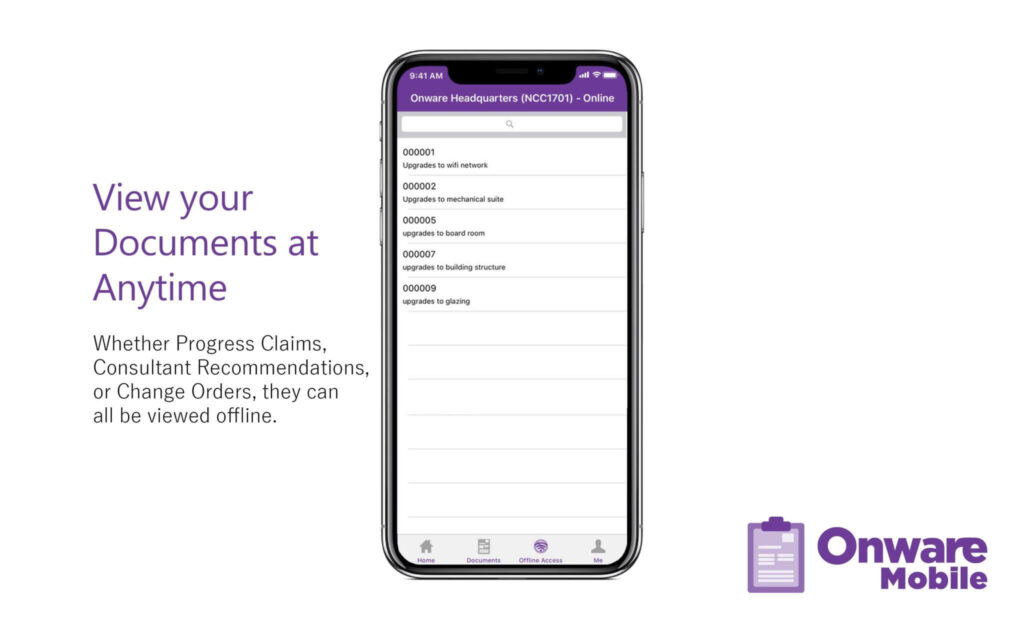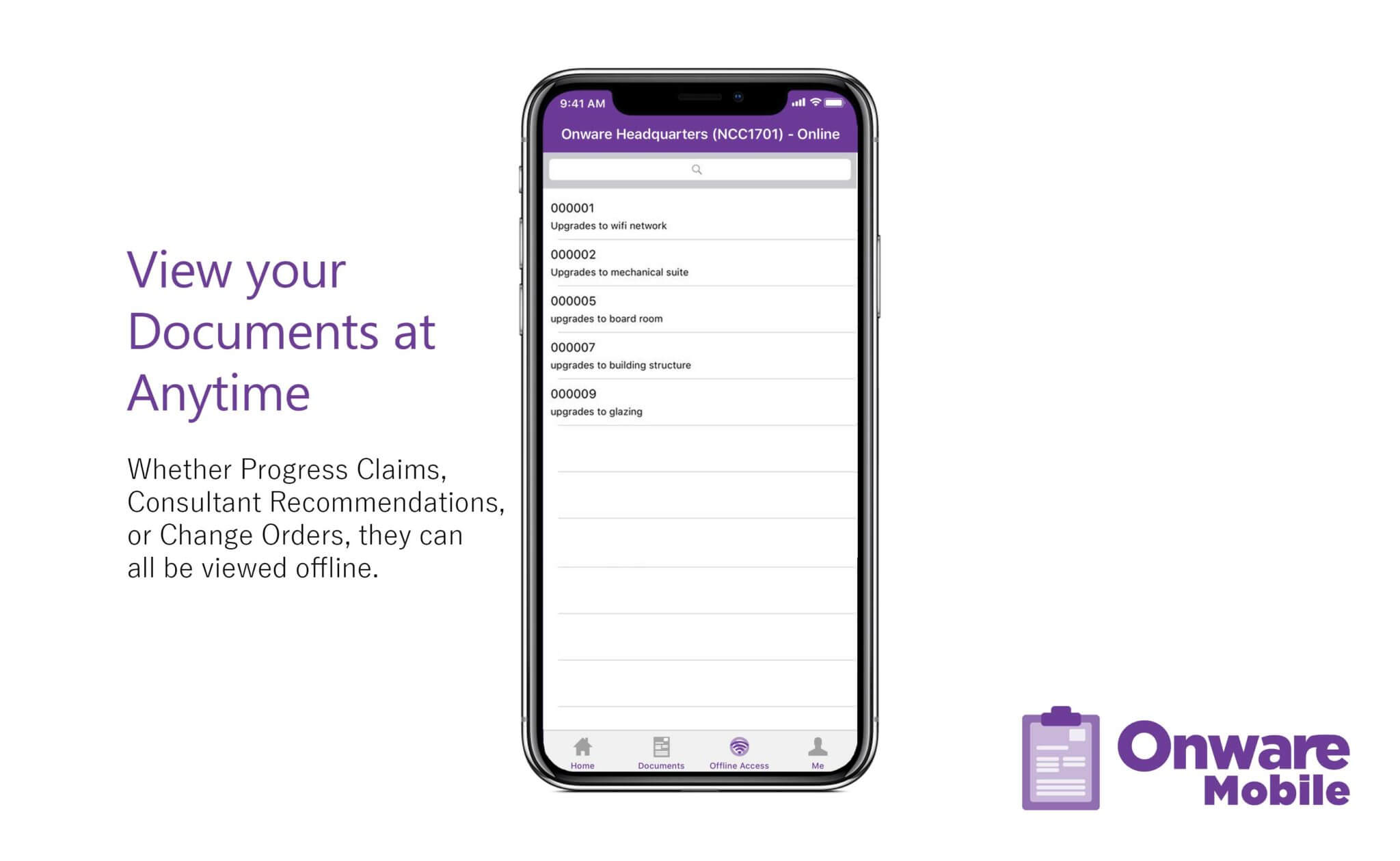 Tableau Integration
Decrease project risk and reduce profit erosion by having complete transparency into your portfolio and individual projects. Bring all your project data together into a single place allowing you to quickly identify key trends and risks through highly visual and easy to use analytics.
Subcontractor Risk
Make better decisions in buying out subcontracts, while having a complete history and current performance of subcontractors across all your projects in one place.
Risk Mitigation
Quickly identify financial risk of unexecuted change orders and their aging across all projects.
Build Your Own
Start with one of overe 50 construction industry specific templates, or build your own with easy drag-and-drop, so you don't have to wait on an IT change request to get your answers.
Response Times
Reduce schedule impacts by having complete transparency on response times on project communications and key project deliverables.
Bluebeam Integration
Create Studio sessions, notify reviewers to join the session to mark up the drawings, and retrieve the final document – all without leaving Onware.
Procore Marketplace
Onware is now an official part of the Procore App Marketplace.
Compare Us
The dashboard is interactive, click to look at details and filter. You can also use CTRL+Click to highlight two or more products to compare side by side.
Please note: Our software comparison was based on a points system at the function level. From information available at the time of review (Spring 2017), we assigned a zero if a function was not available, one if it was partially available, and two if it was completely available. Software packages change constantly, so we can make no warranty or assurance that the information presented here is accurate.
Case Studies ➜