Tableau Blueprint helps build a data driven culture within your organization to obtain actionable insights to drive results.
Data is becoming ubiquitous as organizations are capturing, storing and organizing data at an accelerating rate. Many present-day companies are data companies, in other words, they understand the importance of collecting and using data. Many companies easily agree upon building a data-driven culture, the numbers indicate they were are not successful in this endeavour. In 2018, the management consulting firm, McKinsey, conducted a study analyzing 1,000 companies across 13 distinct sectors and 12 different countries with more than $1 billion in revenue. The results reveal approximately 92% failed in achieving the goal of analytics at scale. However, this means that the other 8% of businesses accomplished this goal – what can we learned from them?
Companies understand the need for the right tools and strategies to empower everyone in its organization to focus on data. It involves shifting organizational thinking to prioritize data facts over intuition, and supporting the development of new skills. Furthermore, it means changing behaviours, encouraging participation, and continuously identifying and promoting how the business is using its data.
Sounds like a tough task, and this is where Tableau Blueprint comes in.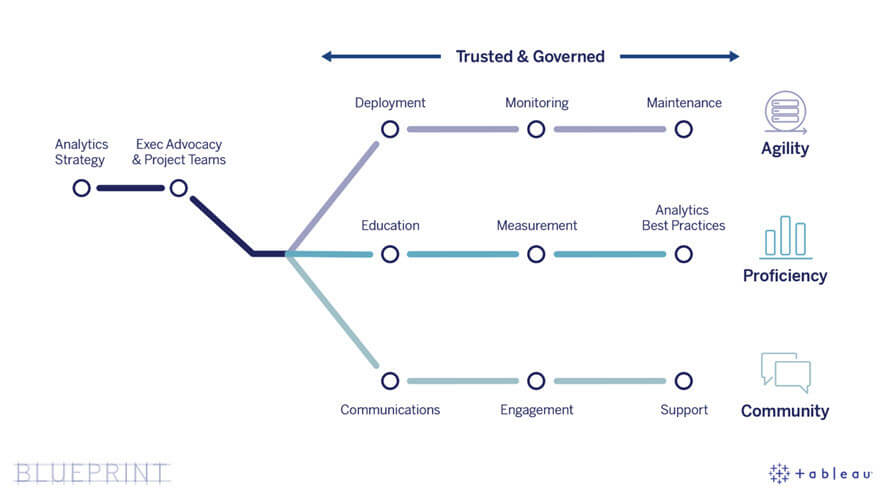 What is the Tableau Blueprint?
Tableau Blueprint is a step-by-step guide with plans, recommendations, and guidelines to help businesses become data-driven organizations. The guide begins with a key driver in determining a vision for analytics. Next, it becomes important to identify the stakeholders and their roles required to drive the data culture. Then, Tableau Blueprint identifies three core capabilities of successful data-driven companies that are built upon trusted and governed data:
A capability around Agility – specifically the agility of the environment.
A capability around data and analytics Proficiency within the user base.
And a capability of Community that is key to building and driving culture change.
Agility
To be successful, an organization is constantly adding, moving and changing their data environment. An organization needs a dynamic environment to grow with its needs. Moreover, Tableau Blueprint advises the best way build, size, configure, and secure your environment. With more users and data, the data environment must continually be monitored, and maintained with metrics to assist in capacity planning, tuning, load testing, and upgrades.
Proficiency
Successful data-driven cultures have users that are data literate. While analytical skills may vary, education become increasingly important to help those in data-related roles learn how to see, understand, and apply their data to everyday decision-making. Proficiency also means being able to measure user adoption and engagement to optimize the data environment and ensure it is meeting the needs of the business. In addition, as your organization becomes more analytics focused, best practices to help guide users on how to use data are important when operating at a massive scale.
Community
Data-driven organizations have a flourishing internal community which promote collaboration between your users and analytics team, helping to drive adoption, engagement and learning. In addition, these communities strongly support the growth of a healthy and engaged environment within the organization.
Onware's role – Guiding through Tableau Blueprint
Today, more companies are placing data at the core of their operations. Forrester forecasts that insight-driven companies will grow at an average of more than 30% annually. However, based on McKinsey's study, building a data-driven culture successfully is difficult. But we can help! Onware Business Solutions' has almost a decade of experience helping both large and small organizations with end-to-end assistance and guidance for setup, deployment, maintenance, and training best practices.
Tableau Blueprint is a plan of action that is designed to help build a data-driven culture. Every step along this blueprint is supported by detailed documentation on the what is required, why it is important, and how it can be done. However, the Blueprint is only one half the picture. We at Onware will leverage our extensive experience and knowledge and take the journey with you, every step of the way.
How your organization moves through the Tableau Blueprint will vary depending on where you are in the journey, as well as, where the performance gaps are. Typically, we work in four distinct phases.
Discover: this is the information gathering phase. We determine where the data is, how it is being used and by whom, and what analytical skills are currently in the organization and what is needed.
Govern: we define controls, roles, and repeatable processes to bring the right data to the right audience.
Deploy: here, your organization will be ready for deployment, with installed and configured software, educated users, and strong communication channels.
Evolve: we assist with monitoring, measuring, and engaging to promote and support the growing use of data and analytics. This ensures evolution and growth as the business changes.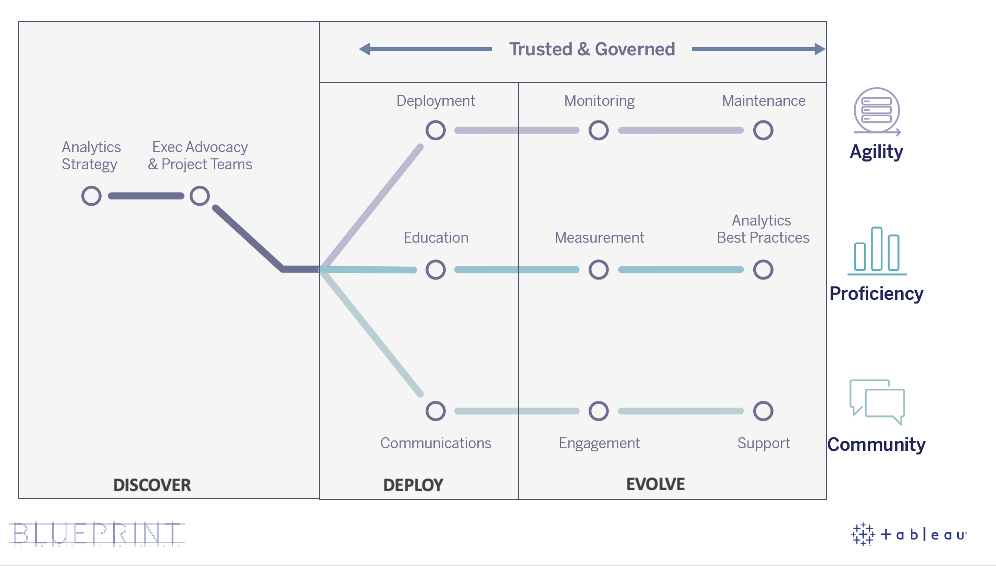 Looking to unleash your data through visual analytics? Connect with us at Onware and we can guide you through Tableau Blueprint
Call and speak to one of our data experts, and we will answer any questions you may have. Let Onware help you become a successful data insight-driven business. We build comprehensive and personalized plans – tailored to your business. We can offer fixed-fee engagements to complete on-site Blueprint assessments. Onware strongly believes in a collaborative approach with key stakeholders to develop and document organizational best-practices.
With over 20 years of combined experience in custom software development, BI, and data solutions, Onware can help you leverage data analytics to meet your organization's needs.
Our clients include architects, construction owners, general contractors, engineers, government entities, or services providers, we can design a custom-tailored solution that is built for your organization. We have experience building income statements and balance sheets for financial analysis, job costing reports, and many other software solutions for project management, sales, and logistics.
Enjoy this post?
Visit our website for more content including additional case studies, news and events, and tips and tricks to elevate your visual analytics. Follow our social media for updates in software, BI, and data. Follow our social media (LinkedIn and Twitter) for updates in software, BI, and data.