Onware has been implementing and supporting visual analytics with Tableau for almost 10 years.
What is Tableau?
Tableau helps people and organizations become more data-driven. The Tableau platform provides the breadth and depth of capabilities that enterprises need, and adapts to your environment with unmatched flexibility and choice, while meeting the toughest governance and security requirements. People love using Tableau because it is both powerful and intuitive. Tableau leads the industry with the most passionate user community, over 86,000 customer accounts, and a commitment to customer-focused innovation.
Tableau is a leading BI and analytics software that helps people transform data into actionable insights. Explore your organization's performance with powerful data visualizations and visual analytics. Build interactive dashboards and perform ad hoc analytics in just a few clicks.
Share your work with anyone and make an impact on your business. From global enterprises to construction organizations, and early-stage startups and small businesses, people everywhere use Tableau to see, analyze, and understand their data.
Bring all your data from across your systems into a single place.
Tableau connects to common software in various industries, such as Procore, Sage, Deltek, NetSuite, AccuTerm, Epicor, eCMS, ViewPoint, CMiC, Salesforce, Microsoft CRM, SAP, SharePoint, and more. Whether it involves income statements and balance sheets or time entries and workforce planning, Tableau saves time by consolidating information across your organization into a central location.
Intuitive Software for Visual Analytics
Onware and Tableau are focused on helping you learn about your data, not making you learn new software. Read about how we can help implement industry-leading BI software for your business:
Reduce schedule impacts by having a complete transparency on response times on project communications and key deliverables.


Make better decisions in buying our subcontracts, while having a complete history and current performance of subcontractors across all of your projects in one place.


Quickly identify financial risk of unexecuted change orders and their aging across all projects.


Start with one of over 50 construction industry specific templates, or build your own with an easy drag-and-drop, so you don't have to wait on an IT change request to get your answers.


Onware and Tableau
Onware is a proud Member Reseller Partner in the Tableau Partner Network. Let us help connect to and prepare your data, automate your data processes, and build immersive data visualizations and interactive dashboards for self-service analytics and real-time reporting. Whether it is helping you manage your team or give visibility to executive and board level oversight, we have the answers to your organization's needs and challenges. We have extensive experience with monitoring volume or resolution times, workload distributions, sales and KPI tracking, construction and project management, budget administration and financial analysis.
Examples of reports and dashboards:
Supply Chain: Tracking manufacturing, procurement, backlogs, or inventory
Sales and Customer Service: Monitoring volume and resolution times, customer trends, account and order tracking, and management targets, goals, and forecasts
Operation: Analyzing equipment usage, workforce distribution and productivity
Construction and Project Management: Tracking map projects, job timelines, budgets, and cost
Accounting and Financial Statements: Providing consolidated company-wide reporting, balance sheets, and income statements
Tableau Products
Tableau Desktop
Tableau Desktop allows people to make data-driven decisions with confidence, by helping them answer questions more quickly, solve harder problems more easily, and uncover new insights more frequently. Better understand your data, make new discoveries, and identify opportunities faster with Tableau Desktop.
Tableau Server
Tableau Server is an enterprise analytics platform that is easy to deploy and scale and helps enable data-driven decision making throughout your organization. Tableau Server gives you the visibility, security and controls you need to empower your people with data.
Tableau Cloud
Tableau Cloud is your self-service analytics platform fully hosted in the cloud—accessible to the right people from anywhere, at any time. Tableau Cloud is a fully hosted solution, so you'll never have to configure servers, manage software upgrades, or scale hardware capacity.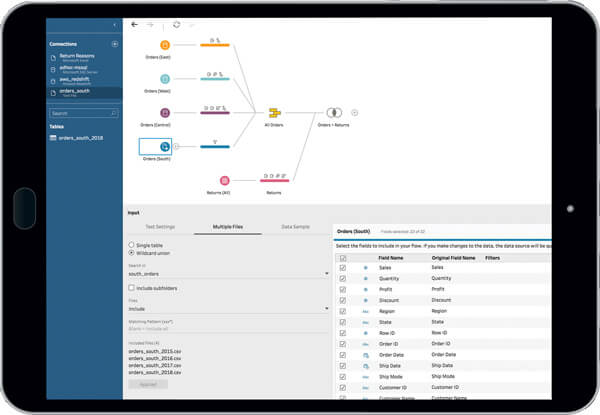 Tableau Prep
Tableau Prep empowers more people to get to analysis faster by helping them quickly and confidently combine, shape, and clean their data. A direct and visual experience gives customers a deeper understanding of their data, smart features make data preparation simple, and integration with the Tableau analytical workflow allows for faster speed to insight.
Tableau Server Management
Tableau Server Management brings together scalability, availability, manageability, and security capabilities that deliver enhanced value for customers running Tableau Server at scale or in business-critical use cases. Tableau Server Management makes it easier to deploy, monitor, and maintain mission-critical Tableau Server.
Tableau Data Management
Tableau Data Management helps you better manage the data within your analytics environment, ensuring that trusted and up-to-date data is always used to drive decisions. From data preparation to cataloging, search, and governance Tableau Data Management will build more trust in your data, accelerating the adoption of self-service analytics.
Tableau Licenses
For more information about Tableau licenses please see the Tableau website.
Tableau Creator
Discover insights with a powerful suite of products that support your end-to-end analytics workflow.
Includes: Tableau Desktop, Prep Builder and one Creator License of Tableau Server/Cloud.
Tableau Explorer
Explore trusted data and answer your own questions faster with full self-service analytics.
Includes: one Explorer License of Tableau Server/Cloud
Tableau Viewer
View and interact with dashboards and data visualizations in a secure, easy-to-use platform.
Includes: one Viewer License of Tableau Server/Cloud
Tableau Professional Services
Connection to Data Sources
Need help getting things implemented? Want to make your visualizations pop? Onware offers a variety of professional services. Draw on our experience implementing Tableau in organizations of all sizes.
Onware will help you connect to your data and ensure that your data is secure by configurating data connection permissions and row-level filtering.
Visualization Consulting
Onware provides live online and on-site services to help with your Tableau data visualizations. This includes management consulting and business analysis to truly understand your needs to develop the most meaningful, impactful, and business specific data visualizations to meet your business requirements.
Server Installation/Maintenance
Onware provides live online implementation services to help with your deployment. This includes installation and configuration of Tableau on your server(s). We will also help to determine and implement a suitable backup strategy for your organization.
Training
Training is critical to get the most out of Tableau. One of the goals of Tableau is to empower users with the ability to see and understand their data. Training is offered by Tableau, purchased by Onware.
Onware Cloud Backup
Protect your organization's Tableau dashboards, reports, and analytics from accidental or targeted data loss with our Tableau Cloud Backup.
Read More About our Tableau Cloud Backup Here
Microsoft Power BI ➜