From 2002 to 2022
This week was an important one in the history of Onware, as we launch our new brand identity and recognize 20 years in business.
Onware was originally founded in 2002, as a spin-off of the University of Alberta. The founders of the company were AVRA Software Lab (Jim Hoover, Tony Olekshy and Paul Sorenson), Matt Edwards, Fraser Gallop, Ian Moon, John Shillington, Eleni Stroulia and the University of Alberta. The work started around June 2002, but the incorporation of the company did not actually happen until later in the fall.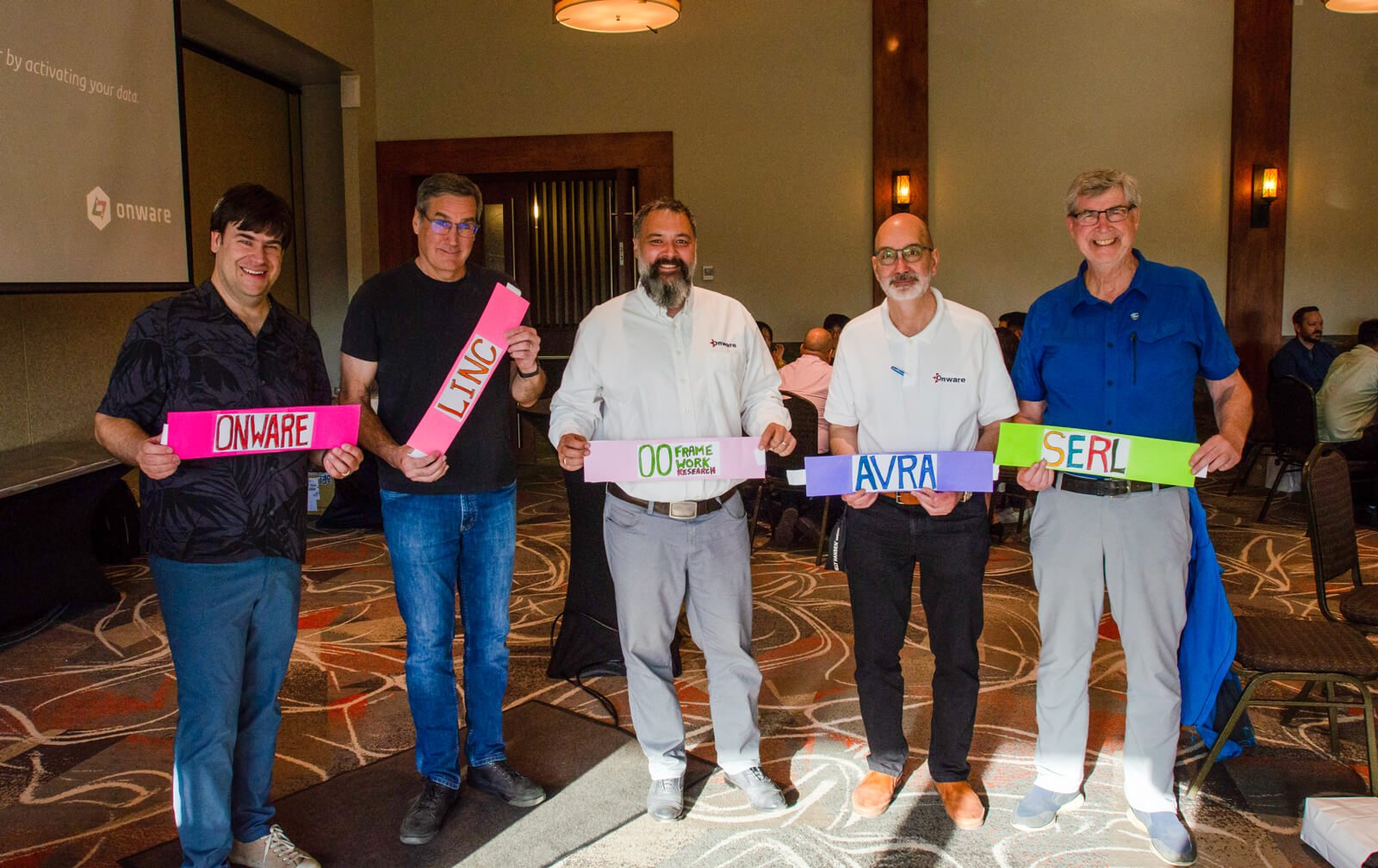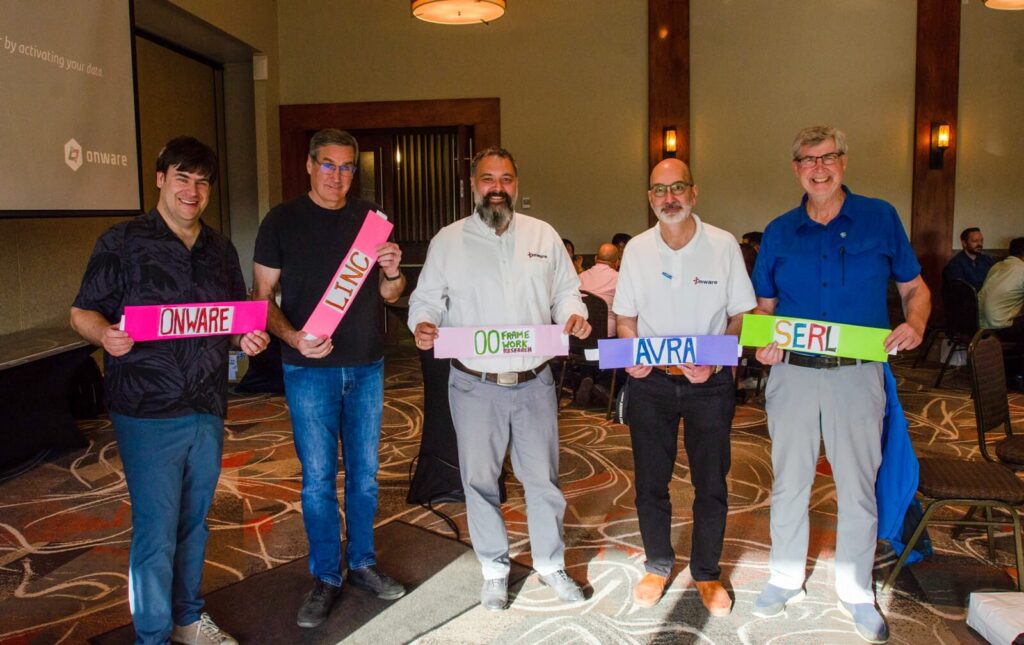 The first few years of business from 2002-2007, Onware worked on many different products, including ones for the construction industry, engineering firms, and event management software. This resulted in a diverse set of clients, but not a high degree of focus for a small company of 10 people. Circa 2006, a large proportion of conferences taking place in Western Canada were using Onware's software for registration.
In 2007, Onware finally found a focus with the construction industry and our Contract Administration software. The event management software was sold to another local firm, and the following five years were spent on improving and refining the Contract Administration product. Onware expanded to include a business intelligence and data analytics practice starting in 2014, with a focus of connecting the construction industry to their data using Tableau.
Today, Onware supports clients across Canada and the United States with offices in Edmonton, Alberta and Houston, Texas. We continue to focus on custom software for the construction industry including our flagship Contract Administration software. In addition, our business intelligence and data analytics practice has grown to support clients running both Tableau and Microsoft Power BI.
A company's brand is similar to a personality. Its attributes define who and what a company is all about. Successful brands inform clients, in a memorable way, about the company, its employees, and its core values. To help celebrate 20 years, we launched a project to update our branding for the next period of growth. This project looked at the who we are and what we do and our key value that we bring to clients. This includes:
Personalized Support, When You Need It
We build a personal connection with clients so when our support team is needed, you'll quickly reach the individual who knows your business and needs.
· With dedicated support for your team, you will always know who will be picking up the phone when you call.
· Saving time means saving money so we ensure our team is accessible when you need us, and that they know your business.
· We pride ourselves in being quick to respond when you need support. If you haven't heard within a couple of hours, we'll certainly be in contact within 24.
· Our high-touch client service team is here to work with you through the project process and available for timely support, as needed. You're our priority.
Deep Technical Expertise to Support the Construction Industry
We have the extensive technical, data, analytics, and software knowledge you need, and decades of practice applying it within the construction industry.
· Utilizing our deep experience in the construction industry, we're able to develop relevant solutions that drive value to your unique needs.
· Together, our software development skills and industry expertise mean we can build tailored solutions for your organization and have a solid grasp on industry best practices.
· We can transfer knowledge we gain through continuous feedback from our construction-specific contract admin clients to further support our analytics and business intelligence work in the industry.
· We know a variety of ERP systems really well and how they work within the construction industry, meaning we can be highly strategic about how we leverage it to support data-driven decisions for your business.
Driving Business Outcomes by Connecting you to Your Data
By understanding the information needed to make key decisions, we connect your data to draw out solutions for your organization.
· We make sense of the data you collect by highlighting vital information and visualizing trends so you can make data- informed decisions.
· With deep ERP knowledge, don't let your data go to waste: allow us to identify important trends in the management system you're already using, in order to inform your business decisions.
· Onware works to connect your historical information so you can solidify your future actions, with confidence.
· We're driven by your success. We sit down with your team to understand what you need to learn in order to grow your business and then work with your data to make that happen.
One-Stop-Shop for Easier Contract Administration
From managing documentation to holding project stakeholders accountable, Onware has all you need to drive contract administration with ease.
· Optimize your workflows with our process driven software and save time, allowing your organization to save money on a full- time position and same time looking for qualified labour.
· Our software has everything you need to effectively execute your job, and it's all cloud-based so you can access it whether you're on site, working from home, or at the office.
· By using a software that encompasses all areas of contract administration, you no longer need to open a variety of programs to manage a project –everything is in one place.
· We have made sure our software integrates with many of the others used by stakeholders in the industry (e.g., Procore, Office 365) to ensure efficiencies and minimize duplication of work.
As we move into our 20th year of business and continue into the future, Onware is powered by a diverse group of Associates. We commit to bring our unique talents and be responsive, knowledgeable, and forward-thinking in getting our work done. We look forward to collaborating with to help activate your data.